So it was brought to my attention recently by my friends that there's this new 'LASALLE Confessions' page on FB, gossip-girl style... and I was mentioned on it twice, in a negative light.
Here, I was mentioned as being 'damn gross' because this person simply cannot 'stand' me, and I apparently think I am 'yi ge zai' just cos I got ''popular''
Here, I am being hated for carrying a bag that I worked hard and saved up for to buy on my own, and for wearing too much makeup.
And here, I am being hated for being ugly and old and relying a lot on makeup. Guilty as charged on the makeup thing. Never said I was a natural beauty what... I really am not. Makeup is my bestie hehe. (Btw, OLD??? Lol, ugly I can accept since beauty is in the eye of the beholder and I do have really ugly days especially when I'm sick and my skin turns greyish yellow but OLD?!??!?? Walau, I'm only turning 20 next month!!!)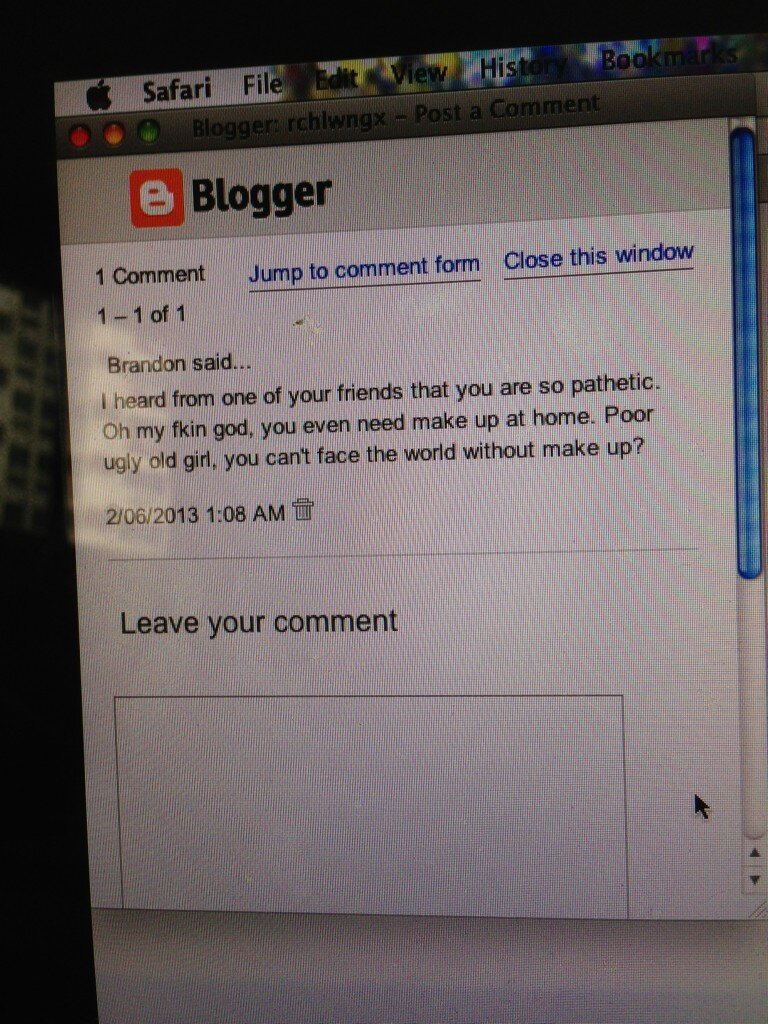 My dear Sammy texted me this morning, amongst my other friends/classmates and they all either said some insulting things towards the haters but mostly they texted to check if I was okay...
And here is what I REALLY think about haters :
And truly, I have been affected by people who hated me, in the past, because I didn't understand how anyone could hate another person when they don't even know them...
And I really don't have many hate comments as I used to have in the past or compared to other bloggers who tell me about how bad their haters are, but I definitely have some popping up every once in awhile.
So I grew up and realised that there will ALWAYS be people who hate you no matter what you do, or don't do.
They'll hate you for what you have, they'll hate you for what you don't.
They'll hate you because you're happy, or simply because they're that unhappy with themselves to begin with, and just want to make others miserable as well. Misery loves company, you've heard of this right?
"Respect your haters because they're the only ones who think you're better than them."
- Nicki Minaj, loved, and hated by many.. but SO VERY successful.
"You don't have to bother with the people who talk behind your back, because that's exactly where they already are. Behind your back."
This is NOT to say that I do think I am super successful/doing very well already because there is ALWAYS more jobs to take on, more to work hard for and strive for (whether it be even more new bags/shoes/clothes or a better lifestyle for my family... I do give my parents money and love treating them to good meals!!! Filial piety is one of the MOST important to me! And anyway I haven't taken allowance since I started blogging. I pay for everything I eat and buy, unless I'm with my bf, or very kind people send me things with nothing to ask for in return but my happiness, which I am always very appreciative of and grateful for. So to say I am spoiled and don't deserve what I have, is really far from what I am. I work very hard for the things I have... they don't come easy.) , and definitely people who are doing the same thing but doing much better!
There'll always be someone prettier, smarter, and you just gotta be the best you can be.
That's all you really need to be happy.
So yes I am really content, happy. But that's not to be confused with being complacent because I still wanna work really hard to be even better in every way! Not just doing better in terms of money or lifestyle, but as a person as well. I want to be a better me every new day.
People really should start spreading the love instead of negative thoughts all the time.
Just like this very cute confession on my good friend Greg!!!!!
She's lovin it ~ HAHA!!
And I tweeted this already but if you haven't seen it, give it a read.
Love gives me hope, everyday, in everything that I do.
Spread the love, people ~~~