As you can already tell from the title of this post - I'm gonna be talking about the very amazing Biore UV Aqua Rich Essence!
I have used sunblock since I was 14, because my mom always told me how important sunblock is. Your skin is the biggest organ in your body/on your body, so it should definitely be super well protected! Exposure to UV rays can result in sunburn, pigmentation and in even worse cases.... skin cancer.... SO DO USE SUNBLOCK! If you haven't been using sunblock, start now!
"YES, PLEASE, I want good skin forever!"
I tried many brands before, but this product/brand is really an awesome one! *Note, previously, I was also using a Biore one! I love their products - they have something for every skin type.*
My skin is changing now as I'm getting older - It used to be oily so I used the oil-free sunblock, but nowadays it doesn't get oily anymore. Sometimes it's even a bit dry. This is why this product is perfect. Let me show you!
Excited me!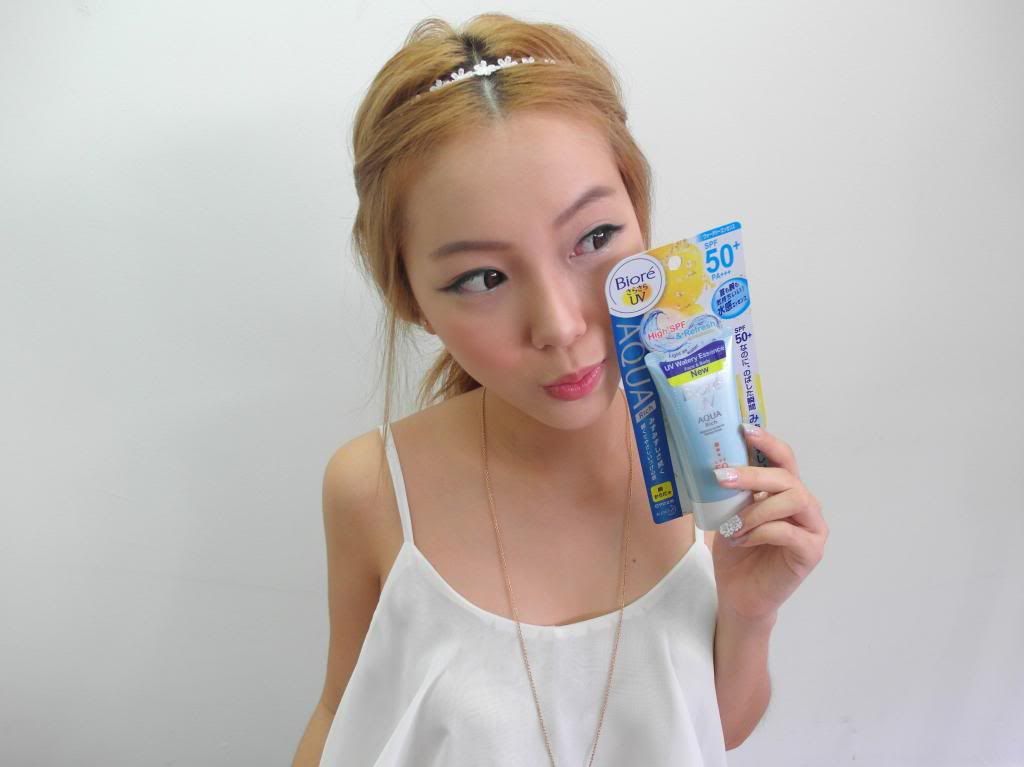 It had extremely detailed write up on the back of the packaging, and tells you everything you need to know - WHY you should be using this product, HOW to use this product, WHERE it is made and so on...
By the way, it is the TOP selling sunblock in Japan since 2011! The figures show it all, really. Its water-based and high SPF solution is perfect for us in Singapore.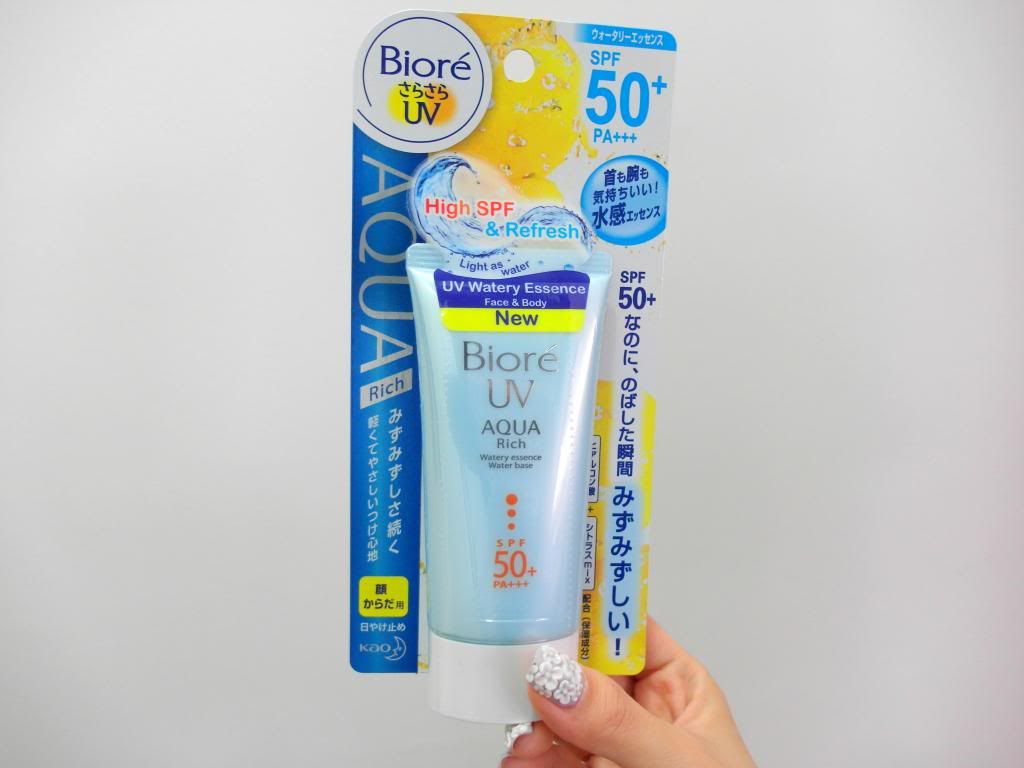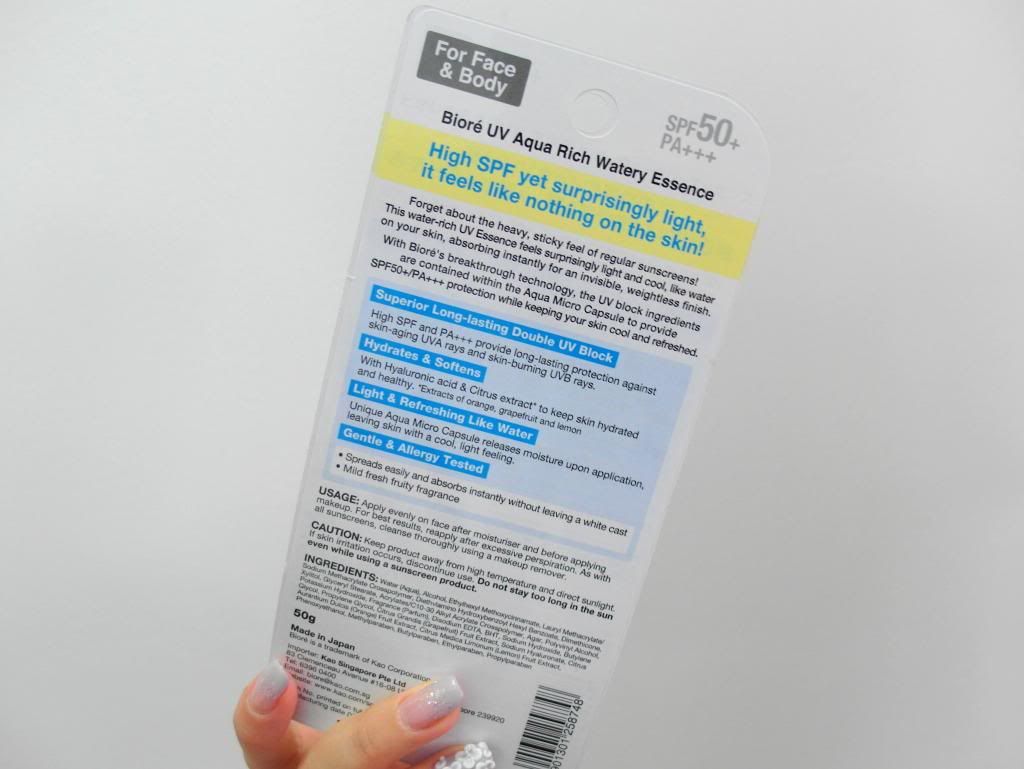 It's so hard to find an SPF 50 sunblock that isn't sticky.... it's really hard. I've tried really expensive brands but they all leave a sticky feeling on my skin that I really dislike!!!
BUT I SWEAR THIS PRODUCT IS SOO LIGHT, WATERY, it's hard to believe there's SPF50 but there is! Also - it is sooo moisturising. My skin felt much softer to touch, there is no white residue as there sometimes is with other rich sunblocks, and yes I said it already, but I truly am super impressed by how NOT STICKY IT IS AT ALL.
And yes, this product can be used on your face, AS WELL AS BODY.
For this post, I am only demonstrating how I put sunblock on my FACE only.
Five dots, one of the forehead, one on the nose, one on the chin, and one on each cheek. Blend before putting on BB cream as well as rest of makeup!
*Also, of course, for this post, I'm only demonstrating how I use it on a made up face already so you guys don't have to see my makeupless and tired face... but I did the same steps before all my makeup as well!*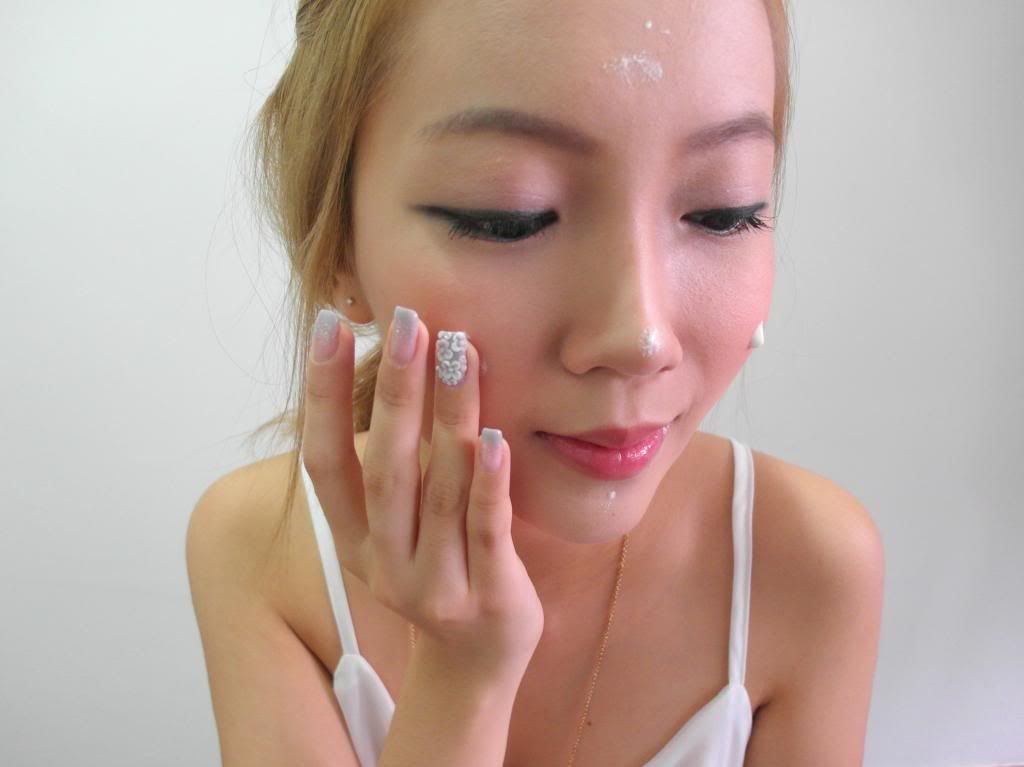 And that's my very moisturising and sun-protecting 'make up base'! For me, I feel it's a great makeup base, cos it has these 2 important properties but of course, each person's skin is different... so it might work the same for you, or maybe it will!
How to decide how much sunblock you need :
SPF X SKIN TYPE
Fair - 10 mins
Average - 15 mins
Tanned to dark - 20 mins
I'm pretty fair (I guess) so....
SPF 50 x 10 mins = 500mins which is 8.3 hrs!
That's pretty much the entire time I'm at school so it's just perfect for my daily UV protection needs.
Fairer skin, protected skin, and healthy skin is mine with Biore UV Aqua Rich Essence!
THANK YOU FOR SENDING ME MY NEW FAV SUNBLOCK, BIORE!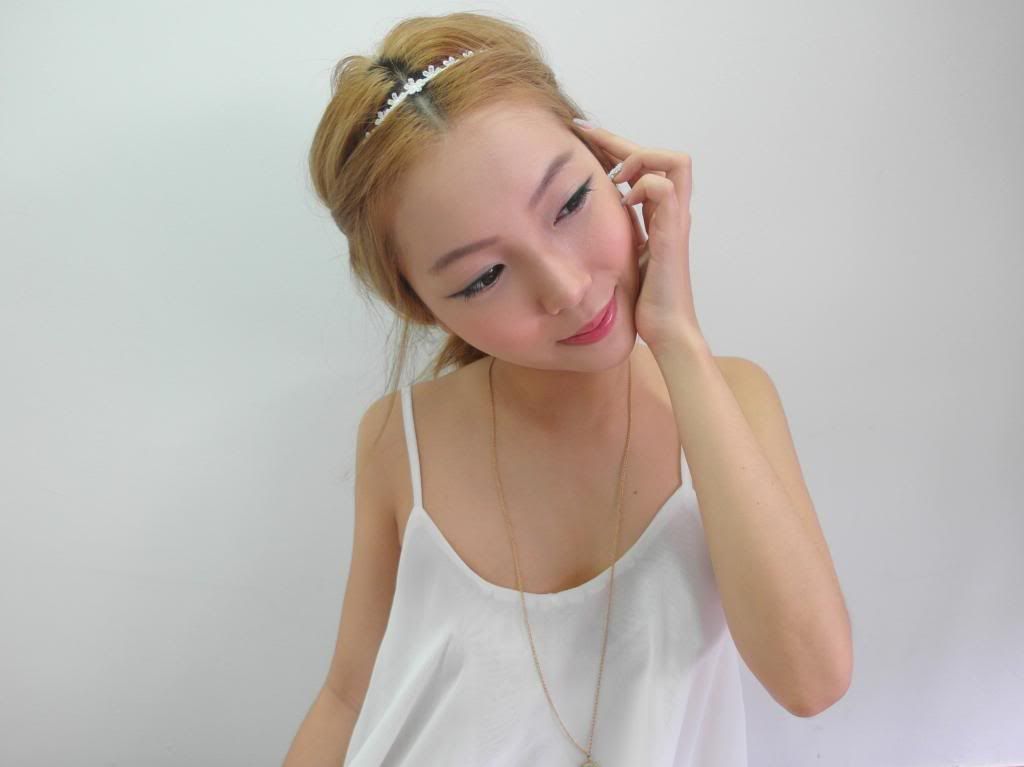 You can get yours at selected supermarkets, pharmacies and hypermarts at a RTP of $18.90 SGD only.
So happy I've found this product - you gotta try it to believe it!
xx